Miles and Liesel recently completed their first hike on the Appalachian Trail (AT). I caught up with them as they began to return to a "normal" life in Maine. —Daniel Bartup, member of the NRCM's rising management team
Why did you travel the AT?
For Liesel, TA started as a childhood dream. She committed to walking it for real around Christmas 2020. I committed to walking the trail with her in early May 2021. For both of us, the challenge was appealing, as well as the ability to step back from to our lives and to recalibrate.
Did you practice before you started?
None of us trained specifically for the TA. We both lived active lifestyles with Liesel being an avid hiker (finishing all NH 48s in 2021). We both had reasonable base physical condition to start with.
What item(s) has become essential that you weren't expecting?
For me it was a bandana around my forehead. Having sweat running down my face and pouring into my mouth through my constantly growing mustache was a much bigger psychological drag than I expected. Many hikers use a sweat cloth, which hangs from a backpack strap, but I found using it to wipe my face broke my natural rhythm and was reactive rather than proactive. Tying a bandana around my forehead was a complete game-changer.
For Liesel, having a dedicated seat has become more than a luxury item. For short trips, sitting on logs, rocks or the ground is part of the experience. When you live in the woods, having a light cushion under your ever-aching legs and a barrier against the cold, damp ground is less of a luxury than a necessity.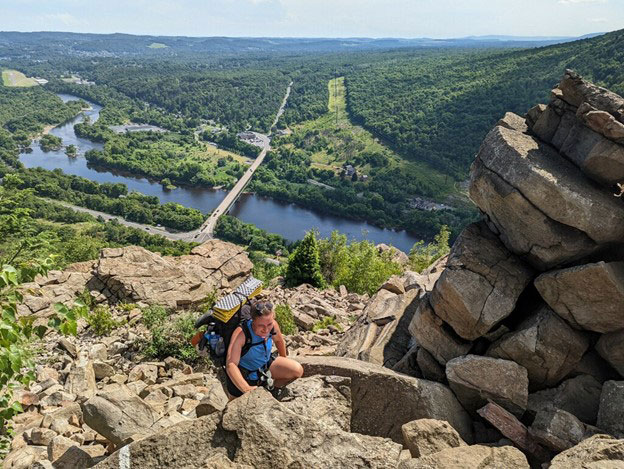 If you could start over, would you do things differently?
We have been off the trail three times for weddings over the summer. Each of them was important to us, but their combined weight set us back about three weeks. We decided that if we did another hike we wouldn't go off trail for weddings or similar events (especially since other long trails are farther from our house).
The other major change we would have implemented was to walk faster and further at the trailhead, and relax and enjoy more days in the city later. Our approach was the opposite of that, and between our three week lag due to weddings and the time we spent relaxing at first, we didn't have time to enjoy our surroundings in the north as much as we would have liked.
What was the hardest part?
Physically the toughest section was the White Mountains and southern Maine. The terrain there is an order of magnitude more intense than the rest of the trail, and also more rewarding both in terms of a sense of accomplishment and natural beauty.
Mentally, the toughest part of the course was central Virginia. Over a section of almost 200 miles, we had to battle illness, the loss of two close friends who returned home, the death of another hiker and oppressive heat and rain, which left a sense of inevitability to our situation. We suffered a lot from this without our "tramily" (trail family) as we were left behind every time one of us got sick. Their catch-up has finally marked, in particular, a significant reduction in our mental burdens.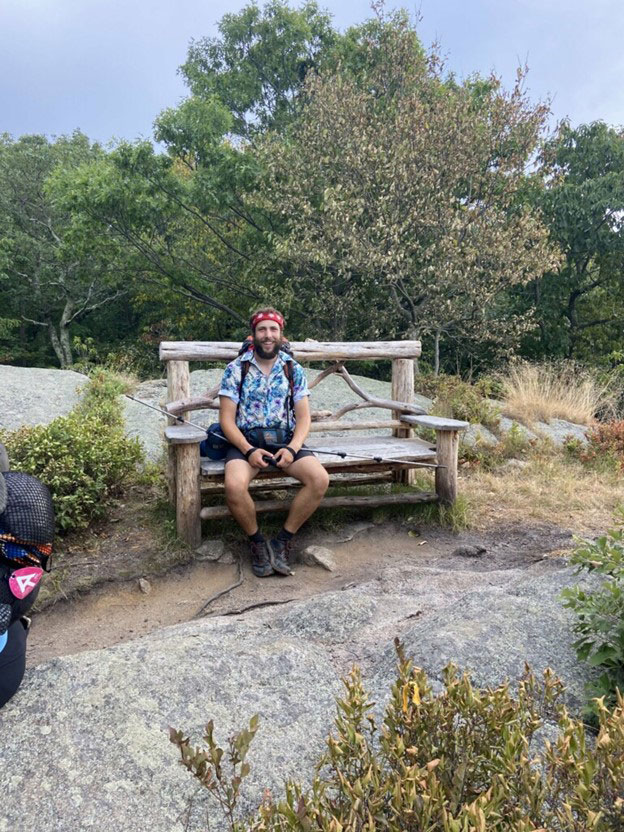 How did you fight homesickness? How did you keep going through the tough times when you probably thought you could easily quit and go home?
Luckily for both of us, we never had to deal with homesickness. We were both there with a sense of purpose, and we were always together. For this reason, going home was never an option for any of us. When we were discouraged, we knew the best solution was to walk harder and faster to get to the end.
How does the Maine section of the AT compare to the rest of the trail?
The Maine section of the AT seems farther from civilization than the rest of the trail. The first section of Maine is extremely rugged and lives up to its reputation as the hardest part of the trail. Farther north the trail flattens out and feels much more relaxed than anything in the previous hundreds of miles. Ancient forests are captivatingly beautiful. The rock, moss, and exposed bogs that characterize many Maine peaks are unique to the northeast and most common in Maine. Several hikers called Maine "our reward for what we endured on the rest of the trail."
Did you receive any trail magic along the way? Can you describe something?
Trail magic in the south was very common. There were stretches in Georgia, North Carolina, and Tennessee where we were getting trail magic for several days in a row, and even several times a day. Although this comes in many forms, the most common was for someone to go to a railroad crossing and provide food, drink and small toiletries, first aid and other emergency items. equipment. These people generally enjoyed talking with hikers and were extremely kind and generous. It was also very common to find a roadside cooler full of beer and Gatorade. Finding a cool drink on a hot, dry August morning can transform your entire day.
Other trail magic in the form of free rides, showers, laundry, and more. were not uncommon in town. Many people in trail towns know you're a hiker by the sight and smell of you, and many of them are eager to help or encourage you in any way they can.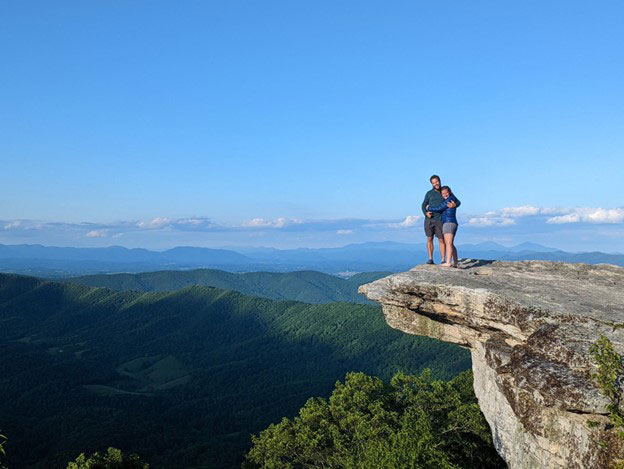 The proposed CMP corridor would cross the AT in three places. Do you remember hiking in these areas? Do you have any ideas on CMP to get the hallway through this area?
Large transmission lines are not uncommon in the south. One of the things we loved about Maine was the feeling of remoteness and the feeling of near untouched beauty. If the CMP corridor crossed the AT, it could significantly impair those senses and would be a step towards making the Maine section a little less unique. Perhaps to future hikers the corridor would seem like a normal part of the trail as they would have crossed so many similar transmission lines in the south. For anyone returning to these areas of the trail, it would be obvious what was lost.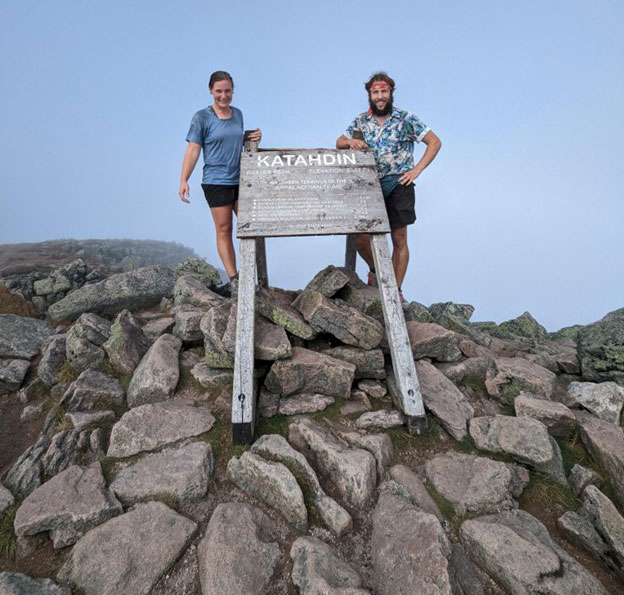 What advice would you give to anyone considering hiking in the AT?
Give yourself time. Don't rush your hike or you may find that you didn't get to enjoy many aspects of the trail that are unique to the hiker lifestyle.
Don't over-plan or over-prepare. Many things you learn on the trail are counter-intuitive and must be learned by experience. Your hiking style will change depending on what section of trail you are on, and it will be different from how you walk on short trips.
Make an effort to get to know the people around you. It's amazing who can pop up in the most unexpected places during a hike.
Would you do TA again?
We both say no. Although it is full of wonderful experiences, which we will miss, we know that we could not find those same feelings and experiences again on the trail. There are other trails and other adventures that we would rather take if we have the opportunity to do something like this again.
The Appalachian Trail is a very unique and special thing.